General Information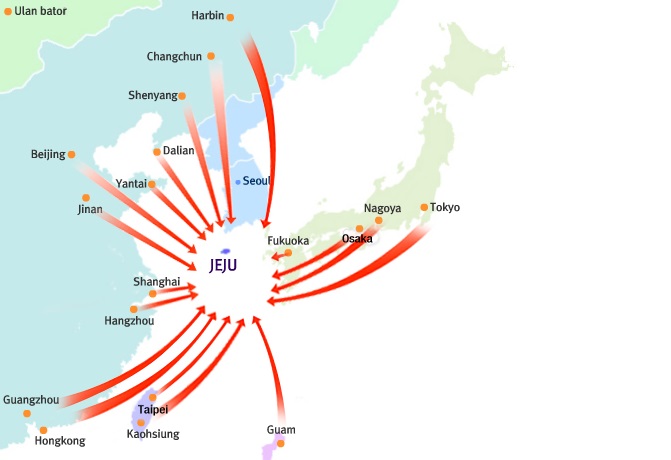 There are four ways to fly to Jeju Island:
1. Direct international flight.
2. Transfer through Asian major hub airports where direct flights to Jeju Island are available.
3. Transfer from Incheon International Airport (ICN) which is the gateway to the Republic of Korea.
4. Transfer through Incheon International Airport, bus transfer to Gimpo Airport (GMP - the second airport of Seoul)
and then to Jeju Island. Please make sure to arrange your travel until Jeju Island. The IATA code of Jeju International
Airport is CJU.

1. & 2. Flying directly to Jeju Island
9 international routes (Tokyo, Nagoya, Osaka, Fukuoka, Beijing, Shanghai, Shenyang, Taipei and Kaohsiung) fly to/from Jeju Island.

3. From Incheon International Airport
From Incheon International Airport, there are a few flights to Jeju Island with Korean Air and Asiana Airlines, with a flight time of approximately one hour. For flight schedules, please check the airline websites. You can also move to Gimpo International Airport from Incheon International Airport easily. On arrival at Incheon International Airport, take an airport limousine bus to Gimpo Airport. It takes about 30 minutes and the fare is 6,000 Korean won (US 5$). The airport limousine bus runs everyday from 05:00 to 21:30 at 5 to 10 minute intervals.

4. From Gimpo International Airpot
There are 50 to 70 flights everyday from Gimpo Airport to Jeju with Korean Air, Asiana Airlines, Jeju Air and Hansung Airlines and the flight time is approximately 50 minutes. For flight schedules, please check the airline websites. Travel from Incheon to Gimpo Airport takes about 30 minutes. However you should plan 3 hours between your arrival time at Incheon. International Airport and your departure time at Gimpo International Airport to allow for check in. Therefore if you arrive at Incheon International Airport after 17:30, you may not be able to fly on the same day to Jeju Island and you should stay overnight in one of the hotels near to Gimpo airport.