Congress Info
ICC Jeju (International Convention Center Jeju)
ASEM19/ANBRE19 Congresses will be held at ICC Jeju (International Convention Center Jeju) located on the southern coast ofJeju Island which boasts beautiful ocean view and spectacular mountain view. The excellent conference facilities including function rooms, restaurants, fitness center, tennis courts, jogging track will make the stay in Jeju a most memorable one. For the hotels around the Convention Center (ICC Jeju), the room rates for conference participants will be negotiated and announced later.
For more information about ICC jeju : http://www.iccjeju.co.kr
---
How to get to ICCjeju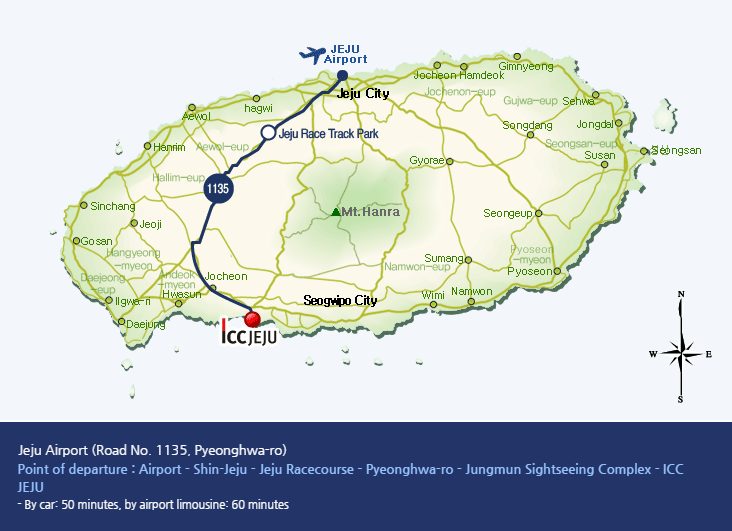 From Jeju International Airport
From Jeju Internation Airport, you will reach ICC Jeju in approximately 40-50 minutes by car through Pyeonghwa-Ro Road. Limousine buses are also available every 15 minutes at the airport.
Guide to the airport limousines (Jeju International Airport ↔ Jeju International Convention Center)

Place
Limousine bus stop at the left side of the front gate (Samyoung Traffic No. 600)
First departure
06:20 at the airport; last departure: after the arrival of the last airplane
Service route
Airport → T.H.E Hotel and Vegas Casino Jeju → Entrance to the Yeomiji Botanical Garden → Hyatt Hotel → Shilla Hotel → Lotte Hotel → Hankook Condominium → Jeju International Convention Center → New Gyeongnam Hotel → Seogwipo KAL Hotel

Taxi guide (Jungmun - Jeju International Airport)

Select the distance (long-distance or short-distance) at the taxi stop.
When you go to the Center, it is all right to take a taxi at the long-distance stop.
Since the taxi fare is fixed, please confirm the distance before taking a taxi
Fare (Korean won) : About 30,000 won; Distance: 40km; Duration: 40-45 minutes

Rental Car Guide

Advanced reservation is recommended if you plan to rent a car.
Upon arrival, you can sign up for rental cars at the rent-a-car desk nearby airport exit.